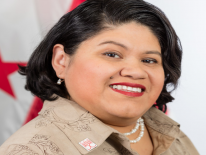 Jackie Reyes-Yanes serves as director of the Mayor's Office on Latino Affairs (MOLA) and is responsible for advocating and making the Latino community an integral part of the District of Columbia. The mandate of the agency, which is part of the Executive Office of the Mayor, is to ensure that the full range of health, education, employment, and social services are made available to Latino residents of the District of Columbia.
The agency plays an integral role in the Latino community, with a budget of $4.3 million and 10 full-time employees. She supervises all staff, has authority over agency-wide operations, and works in conjunction with community organizations and commissions in developing and submitting grants. Director Reyes-Yanes also seeks funds from the public and private sectors to supplement the agency's budget in executing MOLA's mission.
Director Reyes-Yanes' experience spans more than fifteen years of commitment to the diverse growing Latino community in DC. In her previous role, she acted as the Latino Affairs and Community Outreach Director for former DC Councilmember Jim Graham (D – Ward 1). While serving with Graham, Director Reyes-Yanes spearheaded initiatives to address the needs of Latino residents in the District. Several of her accomplishments include: organizing gang prevention activities that successfully reduced street violence and crime and helping secure financing to rebuild the Monseñor Romero Apartments in Mount Pleasant, which were destroyed by a fire in 2008.
Today, Director Reyes-Yanes is an important part of Mayor Muriel Bowser's administration's efforts to deliver a fresh start for all 8 wards in DC.
Before joining the DC Council, Director Reyes-Yanes served the District's Latino youth as a case manager at the Latin American Youth Center (LAYC) and in the Mayor's Office of Community Relations and Services (MOCRS) under former Mayor Adrian Fenty.
Director Reyes has deep roots in the community and a track record of success working in support of causes that help the Latino community. She is recognized throughout the District for her efforts to create a safe space for the immigrant community through strategic lobbying for immigration reform.
Director Reyes is a Ward 5 resident and Salvadoran activist. She made DC her home in 1990.