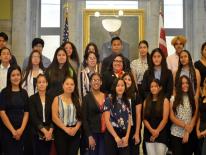 The Mayor's Office on Latino Affairs (MOLA) is seeking high school, undergraduate and graduate-level students, 18 years of age or older, interested in the impact of local government on the Latino population in the District of Columbia. Interns will be given the opportunity to work closely with MOLA staff members on various initiatives and projects aimed at serving the needs of DC's Latino population. Interns will also gain significant knowledge of various DC government agencies and their function within local government, especially as it pertains to the Latino population. MOLA aspires to provide its interns with the tools and the experience needed to best serve the Latino population and strives to ensure that all interns are allowed to explore their strengths and utilize their creativity to this end.
Language Access Intern
The Language Access and Advocacy Program is seeking a junior/senior undergraduate or graduate student intern to work with the Language Access Coordinator and Language Access Monitor in providing technical assistance to the 34 agencies named under the DC Language Access Act of 2004.
Interns will focus on language access related work affecting the Limited English Proficient or Non-English Proficient (LEP/NEP) residents of the District, including a grassroots initiative to raise awareness of the Language Access Act.
Outreach Intern
The Outreach Department is seeking a high school, undergraduate or graduate student intern, 18 years of age or older, to work closely with the outreach team on projects and activities targeting and interacting with the DC Latino population.
Interns may also be asked to accompany staff members on-site visits and handle administrative tasks pertaining to completed projects.
Grants Intern
The Grants Department is seeking a junior/senior undergraduate or graduate student to work closely in maintaining open communication between MOLA, grantees, and the general public.
Interns will also aid in continually updating the grants database and grantee information, as well as reviewing the quarterly reports submitted by grantees.
Communications Intern
The Communications Department is seeking a junior/senior undergraduate or graduate student to work closely with the Press Informational Officer (PIO) in communicating between the Executive Office of the Mayor, DC government agencies, the Latino community, and other stakeholders, as the voice of MOLA. Interns will be asked to attend community events with the Executive Director and/or PIO to capture multimedia materials, provide assistance, and then produce written and media pieces about these events. Interns with a major in Communications and/or Journalism and skills in website design and development, photo and video editing, and social media (e.g. Facebook, Twitter, Youtube, Flickr, Vimeo) are preferred.
Summer Youth Employment Program (SYEP)
Each summer MOLA hosts a group of young individuals employed by DC Human Resources through the Summer Youth Employment Program (SYEP). Individuals who are accepted to the SYEP may request to be placed at MOLA for the summer. Individuals with Spanish and English bilingual skills are strongly encouraged to request to work at MOLA.
SYEP employees working at MOLA for the summer will have a chance to work with each department within the agency to learn about MOLA's office structure and various programs and initiatives. Employees will learn essential reception and customer service skills and will be granted the opportunity to practice these skills throughout the summer. Employees will participate in a series of work development workshops, including workshops on interview skills, dressing for success, and resume writing. Employees will also assist staff by planning, preparing and executing community events and grassroots initiatives both in and outside of the office.
Applications will be accepted on a rolling basis. If interested, please send a cover letter and resume to:
Camilo A. Manjarres
Director of Operations
Mayor's Office on Latino Affairs
2000 14th Street, NW 2nd Floor
Washington, DC 20009
Or respond via e-mail to [email protected]
Or
Visit: https://mota.dc.gov/node/1158821