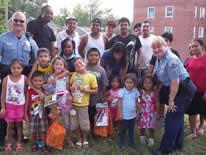 Community-Based Grants
The purpose of the Community-Based Grants Program is to provide grants management services and technical assistance to non-profit organizations to improve their capacity to provide high quality programs to the District's Latino residents.
Through OLA, the District of Columbia government funds the following grants initiatives:
Latino Community Development Program
Grants Department- The Mayor's Office on Latino Affairs (MOLA) Grants Department provides financial and technical assistance to DC Community Based Organizations (CBOs) to enhance their capabilities to deliver the provision of culturally and linguistically appropriate services to improve the lives of DC Latino residents. In order to accomplish this every year MOLA solicits grant applications from qualified 501 ( c )(3) CBOs through its Latino Community Development Grant (LCDG). The target population for the LCDG is Latino individuals of all ages who reside in the District of Columbia and/or business owners in the District of Columbia. Applicants interested in receiving funding from the LCDG will need to demonstrate how they will engage specific segments of the community and services to be provided must be aligned with at least one of the following Mayor Muriel Bowser's administration budget priorities:
Jobs & Economic Development
Education
Public Safety
Civic Engagement
Health & Wellness
Youth Engagement
Arts & Creative Economy
Immigrant Justice Legal Services Grant Program
"The IJLS Grant Program has helped bring our DC values to life and has made us a safer, stronger DC," said Mayor Bowser. "By working with community-based organizations, we are able to provide hundreds of immigrants in DC with the knowledge and resources they need to understand their rights, navigate a challenging political climate, and thrive in our community."
The Executive Office of the Mayor provides funding for qualified Community Based Organizations (CBOs), private organizations and partnerships serving the District of Columbia's population for its FY 2019 Immigrant Justice Legal Services Grant Program (IJLS). The grant program will make a total of $900,000 available to fund programs that provide targeted services and resources to the DC immigrant population and their family members. The FY 2019 Immigrant Justice Legal Services Grant Program will award grants of up to $150,000 to organizations with a current and valid 501(c)(3) status, as well as private organizations, associations and law firms that plan to mobilize pro bono legal services in order to provide immigration legal services. Funding priority areas identified for IJLS FY19 are aligned with Mayor Muriel Bowser's administration priorities:
Public Safety, and Civic Engagement
Office Hours:
Monday to Friday, except District holidays, 8 am to 6 pm.