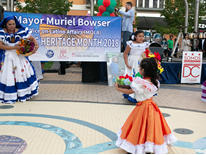 The Mayor's Office on Latino Affairs (MOLA) welcomes those who would like to volunteer with us and gain meaningful work experience and skills. MOLA volunteers have a unique opportunity to engage in projects that respond to a wide range of social and economic needs within the Latino community in DC. Volunteers may assist with many different tasks, such as office support, event planning and set up and performing community outreach, among others.
For more information, contact the Outreach Department:
Ingrid Gutierrez
Phone:(202) 671-2825
Email: [email protected]
Office Hours:
Monday to Friday, except District holidays, 8 am to 6 pm.